SUZAN BERAZA >
Born in Jamaica and raised in Puerto Rico and the Dominican Republic, Suzan Beraza's thought-provoking films challenge viewers to examine their lives and consider the impact of their choices. Founder of Reel Thing, Suzan wears many hats from producer to editor to director.

JUDITH KOHIN >
Judith was the executive director of the Ah Haa School for the Arts in Telluride, Colorado from1991- 2006, an organization she grew from a two person staff to one of southwest Colorado's most successful arts organizations. Judith is an author, cartoonist, visual artist and musician. She was the Executive Producer for the award-winning documentary, Bag It, and is currently producer on Uranium Drive-In.

MICHELLE HILL >
Michelle was producer for the film Bag It. Michelle works on all non-technical aspects of film production, from editing this website to planning film shoots to negotiating distribution contracts. She believes in the incredible power of film to serve as a catalyst for social and environmental change.

CASEY NAY >
Born and Raised in southwestern Colorado. He is just as comfortable on the farm as he is in the editing chair. He was a key player in the making of Bag It. Producer/editor for our next project Uranium Drive-In, this project is close to his heart, as the story takes place in his home town and surrounding communities.

JIM HURST >
Jim is an accomplished photographer, adventurer, climber and filmmaker who has worked on many documentary films. He is currently working with photographer Chris Jordan on a film project about the plight of the Albatross on Midway Atoll. He specializes in self-sufficient location documentary shooting in places where a large crew would be impractical or obtrusive.

LEIGH REAGAN >
Leigh Reagan, DP of the award winning film, Bag It, has worked in film production for the past 20 years. She has shot and edited documentary films and television programs for PBS, Outdoor Life Network (OLN),  VOOM Network, Fox Network, the Showtime Network, Rush HD, National Geographic and NBC.  Leigh's own production company is Turtle Island Media.

SUSANNA REMEC >
Susanna Remec is an award-winning short filmmaker and editor. She has produced, directed, edited and created motion graphics for a weekly television show, Telluride Time. She is currently working on a collection of animated short films with an environmental message in an interactive format. Her heart is in documentary and favorite word is "Done".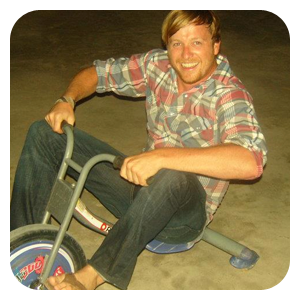 DAVID BYARS >
David joined Reelthing in 2009. Since then, he has worked on Uranium Drive-In as an editor, cameraman, and sound technician. He has also worked on numerous freelance jobs in Colorado, Alaska and New York City. In addition to his freelance work and work with Reel Thing, David is currently writing and directing a short film set in Louisiana.